Reliability and security – cornerstones of connected power grid systems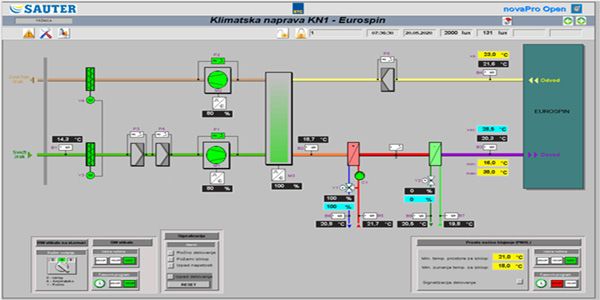 BTC Company is one of the leading commercial property development companies in the region. Under the brand name BTC City, it operates one of the largest business, shopping, entertainment, recreational, and cultural centres in Europe, located in Ljubljana, the capital of Slovenia. The BTC Company also runs a logistics service unit, which holds the leading market position in FMCG logistics in Slovenia.
The area of ​​BTC is constantly evolving and, despite numerous efficient use measures, electricity consumption is constantly increasing. As a result, there is an occasional high load on the electrical network, which could be a problem for the MV network DSO operator Elektro Ljubljana. So far, the SCADA systems of Elektro Ljubljana and BTC, both of them are separate systems, from the perspective of IT, totally closed systems. As PHOENIX LSP 3 that will be implemented on area BTC we will solve security problems who appear if we try to connect those systems.
With the development of power grids, the flexibility of consumption active management is becoming increasingly important. In each local EPS there are loads that can be adjusted according to the situation in the power grid (network). To response to dynamic demands, it is necessary to ensure communication between the SCADA systems of the distributor and the grid users, which is a major security concern.
A secure and reliable IT and network infrastructure is a crucial component of every successful business environment. BTC City thoroughly implemented security systems and protocols on each layer: Edge layer, Core Network layer and Datacenters layer.  Three BGP routers with four different ISP providers ensure high availability, responsive, load – balanced and low latency network traffic. Redundant setup of Core Switches guarantees reliability and high availability, resistant to different kinds of network incidents and outages. Incoming and Outgoing network traffic is monitored and managed through two separate firewall systems.
Two redundant data centers, with Disaster Recovery Plans implemented, minimize the downtime of key services. In-house NOC/SOC monitors network and security anomalies and incidents. Suspicious traffic and anomalies on network, unusual system resource usage are immediately sent to the security team.
However, despite the security setup mentioned above, the SCADA Network, in order to provide max security and reliability, is positioned in and isolated network segment. Every access to SCADA systems is managed with access control lists and a logged firewall. As a result PHOENIX project, the USG (universal security gateway) will be developed, which will ensure secure communication between different SCADA systems and DSO management system.