Europe's largest storage system successfully connected to the grid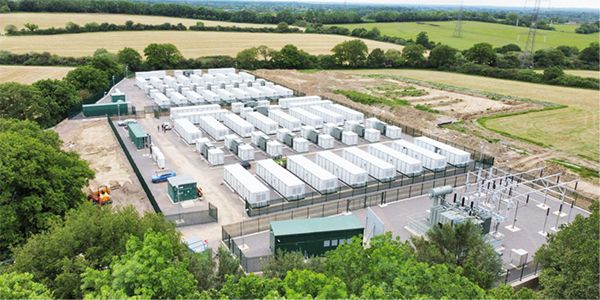 Europe's largest energy storage has been successfully connected to the grid to maximizing efficiency of renewable energy and prevent blackouts. PHOENIX project will provide accessory tools for dealing with power outages and other EPES incidents.
Recent news reported that the largest energy storage of the whole European continent has been successfully connected to the grid. This new facility with capacity to storage 100MW/100MWh, serves two main purposes: (i) maximizing the utilization of renewable energies and (ii) strengthening the grid's stability. What is striking is that many of the media covering the news referred to UK's most damaging blackout that went on in 2019 [1] [2] [3]. This facility was created, partly, to mitigate blackout situations that can be triggered by many causes (as we saw in our previous blog entry [4]).
EPES play major roles in modern society, having their own space in most newspapers. Discussions about grid security and stability are often found in several media, and these kinds of news are common. This is but a hint of the capital importance of the well-being of the power systems. With EPES' security and stability as final purpose, the PHOENIX project arises as an innovative shield for European Electrical Power and Energy Systems (EPES). This initiative counts with several tools for EPES cybersecurity, from design to response and mitigation of cyber-attacks. Its toolbox counts with a Universal Secure Gateway (UGS), incident detection, response and mitigation, situation awareness, perception, incident's information sharing platform, cybersecurity certification center and privacy protection enforcement. This tool will provide a common platform for European EPES where they can access tools for cybersecurity and share the incident-related information and strengthen their protection.
---
References
| | |
| --- | --- |
| [1] | "Europe's Largest Energy Storage Project Comes into Commercial Operation — Utilizing Sungrow Energy Storage System," Business Insider, 4 August 2021. [Online]. Available: https://markets.businessinsider.com/news/stocks/europe-s-largest-energy-storage-project-comes-into-commercial-operation-utilizing-sungrow-energy-storage-system-1030687672. [Accessed 12 August 2021]. |
| [2] | "Europe's Largest Energy Storage Project Comes into Commercial Operation — Utilizing Sungrow Energy Storage System," Yahoo Finance, 4 August 2021. [Online]. Available: https://finance.yahoo.com/news/europes-largest-energy-storage-project-061500207.html?guccounter=1&guce_referrer=aHR0cHM6Ly93d3cuYmluZy5jb20v&guce_referrer_sig=AQAAABsE2B4uVNaoB5QsaAgic-oPXS1XTK9zD8nqTiCPAniMkgQ7H0oZA3bYglzYyK0j8gOV_yM3KjxQDWmJz1PXHOvoNOAz. [Accessed 12 August 2021]. |
| [3] | "Sungrow links Europe's largest energy storage plant to grid," Energy Digital, 4 August 2021. [Online]. Available: https://energydigital.com/renewable-energy/sungrow-links-europes-largest-energy-storage-plant-grid. [Accessed 12 August 2021]. |
| [4] | "The "nature" of cyber-attacks: The curious case of the dusk starlings," PHOENIX, [Online]. Available: https://phoenix-h2020.eu/the-nature-of-cyber-attacks-the-curious-case-of-the-dusk-starlings/. [Accessed 12 August 2021]. |